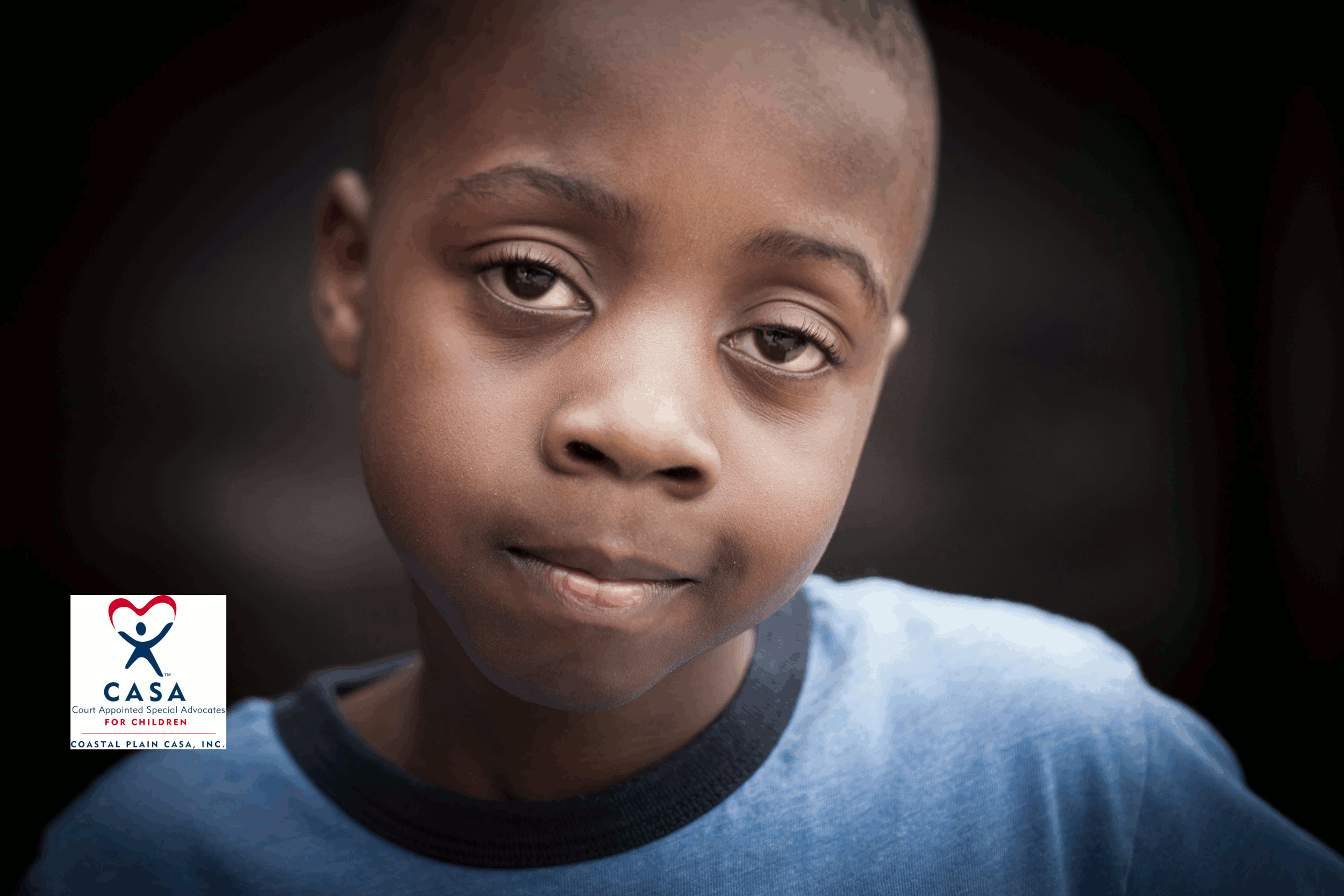 CASA volunteers advocate for local abused and neglected children.
CASA (Court Appointed Special Advocates) volunteers work to help foster care children find safe, permanent homes where they can thrive. Each volunteer advocate is specially trained to be a powerful voice for these children's best interests. They are ordinary people who do extraordinary things for some of our community's most vulnerable children.
Coastal Plain CASA, Inc. serves the Tifton Judicial Circuit which is made up of Worth County, Irwin County, Turner County and Tift County. Coastal Plain CASA, Inc. began in 2000.
Upcoming Training Class:
Next volunteer training starts September 9th at the CASA office. Classes will meet every Monday for 6 weeks from 6-8 pm. Remainder of training will be completed online. Click here for the CASA Volunteer Application.
The CASA Role
CASA stands for Court Appointed Special Advocates. CASAs are specially trained volunteers who are appointed as "Officers of the Court" to an abused or neglected child. Their role is to make recommendations to the Court about what is in the child's best interest.
The volunteer will draw together this information by getting to know the child and gathering information from other persons who are involved in this child's life. CASA volunteers are an active part of the child's team that is working toward ensuring that the child has a safe, stable and permanent home.
Other members of the team may include the child's Department of Family and Children Services foster care worker, foster parents, biological parents, extended family, teachers, doctors, and therapists.
What does a CASA do?
Visits with the child regularly

Reviews the social service agency and Court records

Gathers information about the child from:

Parents

Caregivers

Social workers

Teachers

Anyone else important in the child's life

Identifies family and community resources that can help meet the child's needs

Problem solves with the professionals involved in the child's case

Prepares written reports for Court hearings

Participates in Court hearings

Participates in team meetings

Provides testimony to the Court if requested

Ensures that the child's wishes are known to the judge

Meets regularly with the CASA case supervisor for support and guidance

Keeps the focus on the child until he/she is in a safe, stable permanent home

Maintains confidentiality at all times
Who are the CASA children?
In the Coastal Plain CASA program, volunteers are appointed to children between the ages of birth to 18, who have been abused or neglected and are in the foster care system. Our children are come in all colors, shapes and sizes.

All of them have suffered the trauma of abuse and neglect and being separated from their family, friends, pets, school, and neighborhood. Their whole world has been turned upside down and they now find themselves living with strangers.
In addition, many of our children suffer from:

learning disabilities

developmental delays

physical disabilities

emotional issues

trauma
These injured children are:
lonely

scared

anxious

afraid

distrustful

angry
The longer these children are in the system, the more chaotic their lives become; moving from foster home to foster home, changing schools, social workers who come and go, family who no longer visit.
CASA Training
Volunteers receive 35 hours of training that involves independent study, class time, and court observation.
Topics include:
understanding the judicial and child welfare systems

cultural awareness

the impact of family issues such as substance abuse, mental illness and family violence

building collaborative relationships

practicing the CASA role

writing court reports
Is CASA Right for You?
If you....
care about children

Are at least 21 years of age

Live or work in Tift, Turner, Irwin or Worth Counties

Are objective and non-judgmental

Have a flexible enough schedule to attend Court hearings and meetings

Have enough time in your schedule to spend 10-15 hours a month working on behalf of a child

Can participate in 12 hours of continuing education training per year

Can make a minimum one year commitment

Have good written and verbal communication skills

Possess basic computer skills such as email and word processing

Have reliable transportation
Then CASA is right for you!
How Do I Become a CASA?
Submit a completed application, click here to apply

Provide four (4) references

Participate in pre and post training interviews

Pass state and federal criminal background checks

Pass child protective service and sex offender registry screening

Have a clean driving record verified through the Motor Vehicle Administration

Successfully complete 35 hours of training
Frequently Asked Questions
Can CASA children visit or participate in activities with my family?
No. The identity of the child and his/her family is confidential and cannot be shared with anyone except the CASA staff and those directly involved with the child's case.

How many cases does a CASA volunteer work on at a time?
Each CASA is assigned to one child, or sibling group, at a time.

What type of experience do I need to become a CASA?
Our CASAs come from all walks of life. There is no specific experience needed to become a CASA.

What type of ongoing training do CASAs receive?
So that our volunteers are as up-to-date on current information as possible, we provide 20 hours of free continuing education per year. CASA volunteers are required to participate in 12 hours per year. Program staff also notifies volunteers of any free or low cost training that is available in the community.

What kind of support do CASAs receive?
All volunteers are assigned to a professional case supervisor who is responsible for providing support and guidance. Volunteers meet with their supervisors on a monthly basis to discuss their case and plan the course of action for the next month.

How much paperwork do CASAs have to complete?
CASAs write a court report whenever there is a hearing, usually every three or six months. A first draft of this report will be submitted to the case supervisor three to four days before the hearing. Volunteers also keep detailed records of their contact with everyone involved in the case.

Can I work full-time and be a CASA volunteer?
Many CASA volunteers are employed full-time. Some flexibility is necessary to allow for attendance at Court hearings and other meetings that may be held during normal business hours.

What if I have more questions?
Contact Coastal Plain CASA, Inc. at (229) 386-9765 or click here to contact us.
Support Our Mission
Coastal Plain CASA, Inc. is a private non-profit organization and is required to raise the necessary funds to operate. Coastal Plain CASA, Inc. receives a small amount through Georgia CASA each year. Coastal Plain CASA, Inc. depends on public support from individuals, businesses and churches.
Make a tax-deductible donation directly to Coastal Plains CASA.

You can mail your check to:
P.O. Box 2587
Tifton, GA 31794
or Click Below to Donate Online:
Become a Corporate Partner
Help defray the administrative costs associated with operating a CASA program.
Provide in-kind printing, advertising, accounting or other services.
Sponsor or purchase a table at a CASA fundraising event.
Sponsor volunteer training sessions or provide materials for training.
Promote employee volunteerism with CASA by posting recruitment posters, informational inserts in paychecks, etc.
CASA is in need of Corporate Partners to provide services, supplies, and financial assistance to support our special events. If your company or business would like further information on how you can help, please contact Coastal Plain CASA, Inc. at (229) 386-9765 or click here to contact us.
Our Corporate Partners